Kovid-19 accelerated the food crisis. Since the onset of the pandemic, malnutrition has increased, and this is exacerbated by control measures around the world in an effort to contain SARS-CoV-2. Infinite queues in front of food bank deliveries in major European cities; African farmers have to throw away their crops because they cannot cross borders; Unemployed workers (catering, courier, seasonal workers, etc.) find themselves unemployed in mega cities around the world without a safety net; Children who stay away from school and school canteens വലിയ Malnutrition, a large part of the world's population, takes many forms.
The Annual Report on Food Security, Co-directed by the Food and Agriculture Organization of the United Nations (FAO), the World Health Organization, the World Food Program, UNICEF and the International Fund for Agricultural Development (IAFD) on Monday, July 12. This is: The pandemic has had a huge impact, starving 118 million more people by 2020, for a total of 720 to 811 million malnourished people. The UN estimates that the share of the world's population with deep regional inequality will be 9.9% (up from 8.4% a year ago): In Africa, more than one in five inhabitants do not eat. 3 points a year), affecting 9.1% of the population in Latin and Central America (+2 points a year) and 9% (+1.1 points) in Asia.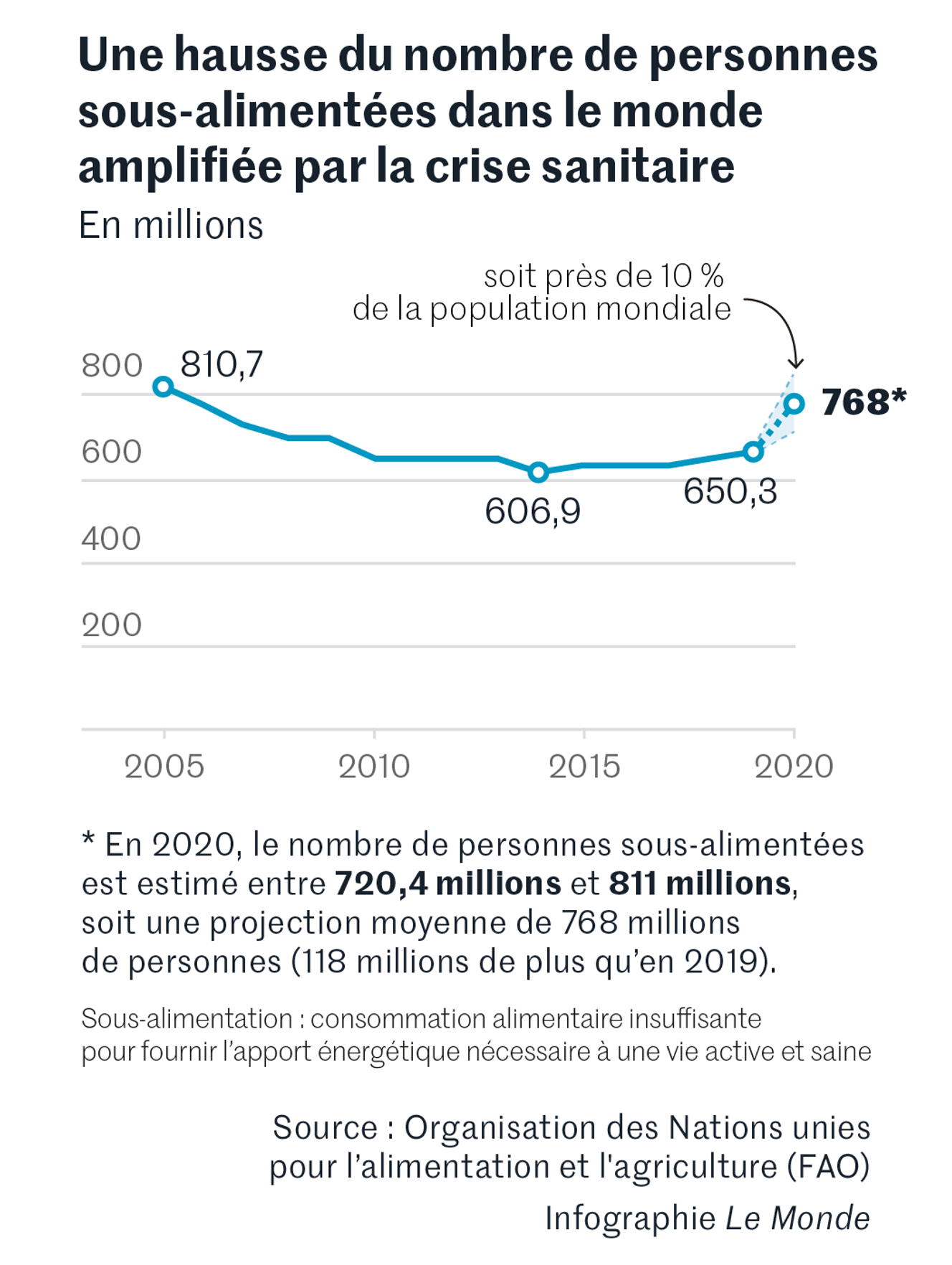 By expanding into the broader concept of food insecurity (e.g. reducing portions, or skipping meals), which refers to the fact that not enough food is regularly accessible, there has been a comparable increase in 2020 alone, in the previous five years: 2.37 billion people experienced food insecurity in 2020, or 30% of the world's population, an increase of 320 million compared to 2019. It increased for the first time, including the European continent (+1.1% to 9.3% of the total European population). "Many countries affected by the Kovid-19 pandemic have taken consolation measures, which have made it possible to avoid a humanitarian crisis, but we are facing a disease that is gradually keeping you away. Symptoms ", Observed by IAFD President Gilbert Hongbo in an interview The world.
You have 69.77% left to read this article. The rest is for subscribers only.
Musicaholic. Twitter guru. Total bacon fanatic. Zombie ninja. Freelance student. Coffee fan. Gamer.