An Ulster SFC defeat last year meant your championship season was over, and in the summer of 2000 Armag won by one point against Derry in the provincial decider.
A year later the 'back door' came into being, allowing 29 extra games to be played and giving the losing teams a second chance.
For inter-county players who know nothing but a second chance system, late this winter and winter will get their first taste of pure knockout football at the county level, and the gallic games will not escape the devastation wrecked by Kovid-19.
But what was it like to be a county player and train for a year, because a 70-minute championship could only be football?
Johnny McBride scored the only goal of the game in the Ulster final on July 17, 2000, bringing Armaggi to the Derry level, and Orchard County secured victory before Ousen McConville pointed out a controversial free.
McBride and McConnell say playing knockout football was something they never thought of.
"It's something you know, it's only been one day. I personally still think club knockout championships are still the best way to play," McBride told BBC Sport.
"Looking back now only now, you're disappointed that you lost the tight games before 2001. Things would have been so different if you had had other options to the championship."
Derry in 2001 at the back door of Tyrone
Tyrone, who went on to win All-Ireland titles on the qualifiers route in 2005 and 2008, is an Ulster team that has benefited from the backdoor system.
However, a rough start to the Red Hands' new format as Derry jointly received revenge for their earlier Ulster championship defeat on the side controlled by provincial champions STUN Art McCory and Eugene McKenna in the newly inaugurated All-Ireland quarter-finals.
"Normally anyone who plays well during the day gets it, and you get boastful rights for that year," McBride recalled.
"The first year that the back door came, Tyrone beat us, we got a chance in the last eight, they got knocked out, so it showed us the advantage of the back door."
While acknowledging that knockout football is a more exciting sport, the former Derry captain believes it is impractical for a "Gaelic product".
"I think you have to have a route to this. Obviously, this weekend is different because there's time for everyone to be happy and have some kind of football," said Erigel Sierra, manager.
"Under normal circumstances, I think most people would accept a straight knockout – as long as I like it – probably won't work anymore, because teams spend a lot of money and resources for six to eight months, and the next time you find yourself losing a game, you don't get a chance to fix it. "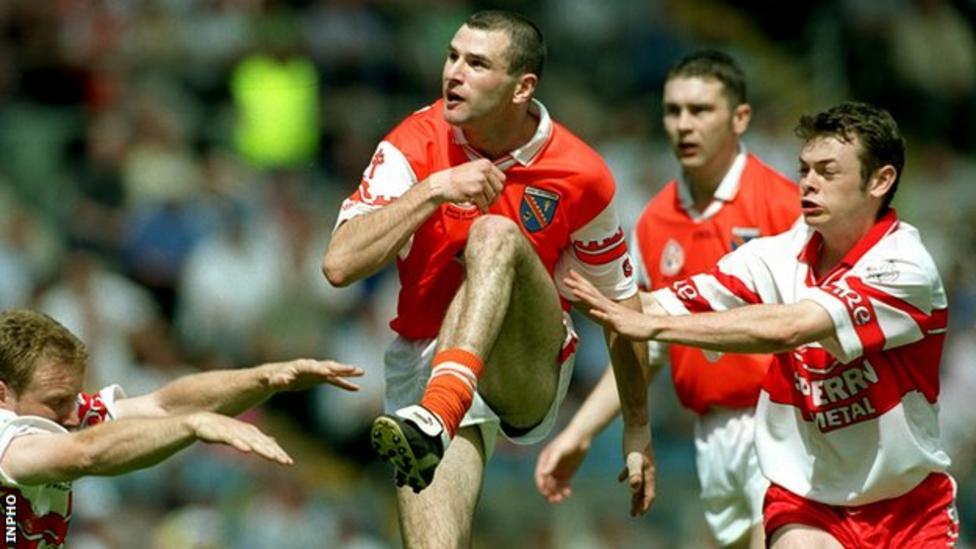 There is a difference between Armag heroes in straight knockouts
Former Armag forward Steven McDonnell disagrees.
"I've always said this to myself, and I'm still a believer in that championship football – it should be knockout football – Cherry wins and only Cherry wins," says the Killey man who loves McBride.
His Armag team added the Sam Maguire Cup to the Anglo-Celt in 2002 to win the county's first and only All-Ireland title.
However, his former teammate Ozin McConville says that without the safety net of qualifying players, "you never had a chance to build a friendship with your teammates because you never met them again until the league started".
"It's very difficult to develop team spirit or coordination the way you play.
"When it came to the back door system, everyone agreed that it was the best way to spend your year," Pandit continues.
"You are guaranteed at least two games. If you're lucky in the draw, you might get three or four, even if you are not at the peak of your strengths. It looks like a very good system. A lot of young people were willing to buy more of it.
"My mentality now is that it's very difficult to go back to where we were, but people accept it because of the circumstances and the year."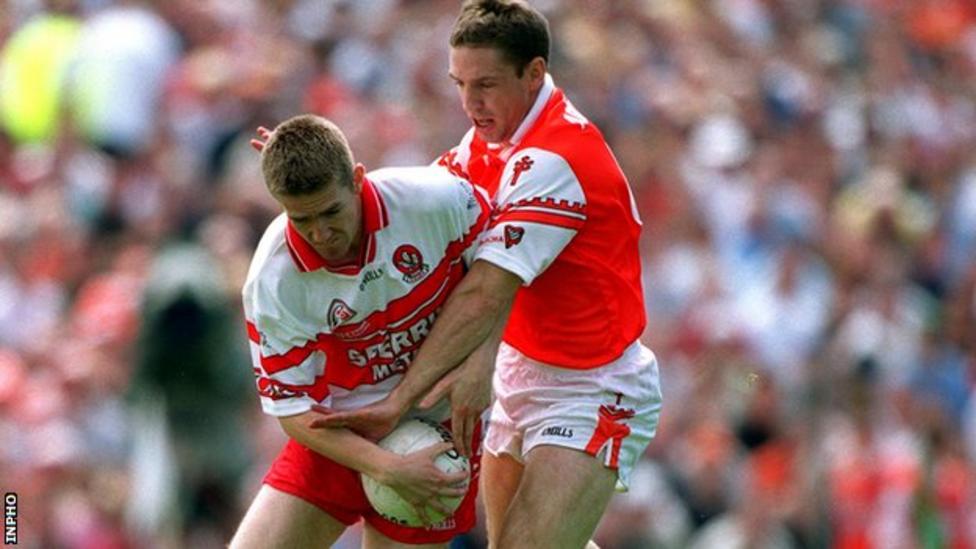 Win may be genuinely 'probably the wrong call'
Armagedd's Ulster victory over Derry was considered controversial in 2000 due to a dispute between Derry's Henry D'Antani and Armag's Paddy McQueer, which liberated Orchard County from their victory, although many believed it was not a mistake.
"Henry Paddy's ever had a sweet shoulder, and the referee gave him a genius. You should not forget such things," McBride laughs.
"It was a good shoulder on any shoulder, I would say, and Kieran McGinney would probably admit to himself that it was shoulder to shoulder."
Maconville admits at the time, "He thought it was a very bad solution," but "he's studied it for years and talked about it with Henry Dwight."
"We think we are very lucky in ourselves, but at that point we would take anything, because we have only just begun to achieve a few things, and you need a little luck.
"The Armag people want to brush on it, because we felt we got what we deserved at the time … but a fair game for the referee!" Former All-Star Chuckles.
McBride concluded that defeating Derry Armag on Sunday would be "a very good revenge" and hoped the result would be "very close".
Travel fan. Freelance analyst. Proud problem solver. Infuriatingly humble zombie junkie.